María Wood Producciones -formerly Igenio Visual- was formed in 2005 in order to produce high-quality films and television series, with culturally and socially relevant themes.
Currently, Maria Wood Producciones has film and television projects for different markets, with partners and clients such as Amazon Studios, ZDF Enterprises, The Mediapro Studio US Hispanics, Sony Music, Sony Pictures, WarnerMedia, and with Chilean TV channels such as Mega Media and TVN.
Interests
María Wood Producciones specializes in relevant, contingent and culturally rooted content. We are interested in developing and producing TV series and films for Chile, Latin America and the world.
Services
María Wood Producciones develops and produces high-quality films and television series, for different windows and in various formats, for the national and international market. Additionally, the company makes videos for digital agencies, provides production services to foreigners and advises on content and business models.
Projects
Name of project:
«Manutomatoma»
Genre:
Documentary feature
Status:
In development
Duration:
70′
Director:
Rosario López, María Elena Wood
Production:
Patricio Pereira
Storyline:
Pato Manutomatoma, one of the greatest artists of Rapa Nui, disappears without a trace and sowing doubts. An exceptional sculptor who left the most isolated island on Earth in the late 1960s and never returned. Her daughter Merina, after 40 years of being abandoned, sets out to search for him.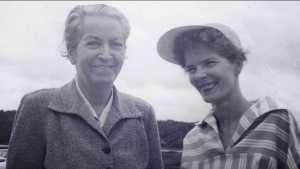 Name of project:
«Locas Mujeres»
Year:
2011
Duration:
72′
Director:
María Elena Wood
Production:
Patricio Pereira
Storyline:
History of the Chilean poet and Nobel Prize winner in Literature, Gabriela Mistral, and her relationship with the American Doris Dana. Gabriela meets Doris when she has not yet overcome the great tragedy of her life: the suicide of her only child. Aware that her partner will soon be gone, Doris records conversations with Gabriela at her home in Long Island, New York. These recordings will be the entrance point into the affective universe of a woman who lives in permanent tension with her inner demons and whose sensitivity and ambition make her the protagonist of her time.